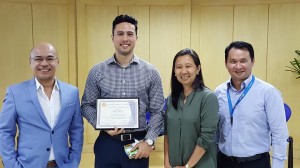 The ASP held the seminar "The Art of Data Storytelling: The Essential Data Science Skill Everyone Needs" last June 28, 2017 at the Insurance Institute for Asia and the Pacific. The speaker was Isaac Reyes, a Data Scientist, TEDx speaker and lead trainer for DataSeer.  A panel discussion followed the presentation with representatives for life insurance and non-life insurance. Maricel Paygane, Head of Customer Experience of FWD Insurance represented the life sector and Nino Joseph Paz, General Insurance Risk Manager of AXA Philippines represented the non-life sector.
Romeo Abada of SGV and Co. facilitated the open forum fielding questions from the floor from ASP's Ariel Meneses and representatives from Allianz PNB Life Insurance, Sun Life Financial Philippines and Troo Life. Issues raised ranged from how to apply data science given local regulations and legacy systems, to how should companies invest in data science.
Life Insurance Committee Governor-in-Charge Avic Lim and Chairperson Jojie Darvin presented the speaker, Isaac Reyes, with the token of appreciation at the culmination of the seminar. The event was well-attended with participants including not just ASP members, but also other insurance professionals and students from various universities.
DataSeer will hold the full 2-day Data Storytelling course this coming August 14-15. Registration and other details may be found in their website.