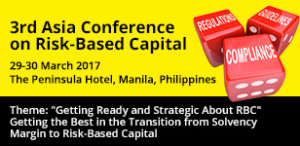 We are happy to announce that the ASP is one of the Supporting Organizations at the 3rd Asia Conference on Risk-Based Capital to be held on 29-30 March 2017 at The Peninsula Hotel, Manila, Philippines.  This conference is being organized by Asia Insurance Review.
The letter from both the Asia Insurance Review and the ASP with details on the conference, including the 20% discount on the registration fee for all ASP members attending, may be accessed here.
Let us all support this conference by sending delegates from our organizations and learn from experts on RBC including our very own former ASP president Romeo Abada!
Cheers!
Roy Racela
ASP President