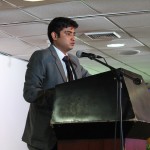 The ASP held its 2nd Quarter General Membership Meeting last May 26, 2017, Friday, at the JVR Rooms 2 to 5 of the AIM Conference Center in Makati City.
Manan Narain Sharma, a Senior Actuarial Consultant for FIS Insurance in Asia Pacific, discussed the broad overview of IFRS 17 and outlined how this would affect the actuarial systems used by life insurance companies. ASP President Roy Racela, Romeo Abada and Ian Nuqui raised questions during the open forum.
The Business Meeting began by a presentation from Website Committee Chairperson Cham Vergara regarding updates and the new functionalities of the website. This was followed by Life Insurance Committee Governor-in-Charge Avic Lim presenting the 2017 Philippine Intercompany Mortality Table (PICM). Vice President and Programs and Arrangement Chairperson Jess Ocampo then discussed pertinent details of the 58th ASP Convention this year. Jose Ang represented the Examination Committee and discussed upcoming updates to the ASP Integrated Exams as well as the number of participants for the June 2017 sitting. Health Committee Governor-in-Charge Sharon Maranan mainly discussed the recent guidelines and advisories with regards to HMOs as well as the recently released list of qualified HMO actuaries which includes 19 fellows and 6 associates. Social Insurance Committee Jaime Santiago discussed revisiting the IAA valuation standards. Employee Benefits Committee Governor-in-Charge Tisha Darvin discussed the ongoing review of ISAP3 for possible adoption of the ASP to update the Actuarial Standards of Practice.
The Membership Meeting was capped with the actuarial society's first engagement activity for the year. The activity provided the opportunity for members to foster camaraderie further with good food, fun games and live music.