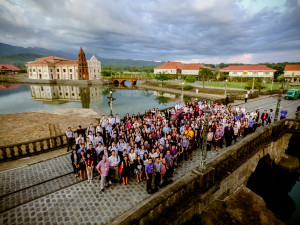 The Actuarial Society of the Philippines held its 57th Annual Convention at the Las Casas Filipinas De Azucar in Bagac, Bataan from November 17 to 18 last year. The theme for the convention was "Reinforcing Foundation. Deepening Fellowship. Having Fun."
In line with the theme, the first day had topics that reinforced foundations such as life insurance in the changing world, simplified underwriting, in-force portfolios as a value creator and growth amidst global challenges presented by Hannover Re, RGA Re, Swiss Re and BDO Trust and Investments Group, respectively. After the last session, the delegates had their photos taken in the grand staircase of the main hall by the designated photographers and in the bridge by an overhead drone. The day was capped with the Fellowship Night filled with games, good music and all-around fun which of all of the delegates engaged in.
The second day continued with the theme with sessions regarding topics such as the history and future role of the appointed actuary, the new regime of the Risk-Based Capital, the case for equities in portfolios, enterprise risk management and the Social Security System actuarial valuation presented by Munich Re, Security Bank Asset Management Group, Milliman, Willis Towers Watson and the Social Security System, respectively. The sessions were capped by a forum with some of the society's esteemed actuaries sharing words of wisdom with regards to actuarial exams, career growth and life. The convention was concluded with the Induction Night wherein the society welcomed its new officers. Adding to the memorable ending is a cultural performance care of the Las Casas Filipinas De Azucar and a surprise presentation by the popular home-grown band, True Faith.
The event is featured in the April – June 2017 issue of the Insurance Philippines magazine. You may also view the official photos at the society's FB page.